Customer Reviews
We are always pleased to receive honest feedback from our customers. Below are some recent reviews.
"When we recently remodeled our home, Roadrunner Glass installed our new shower door. We found your service to be professional, the price to be competitive, and your staff had excellent product knowledge. Our overall experience with Roadrunner Glass was among the best of all the contractors that we worked with. I am taking the time to provide this review because we were exceptionally pleased with both the quality of your service and product. For us, Roadrunner Glass provided very good value for the dollar."
- Sue in Phoenix

"Roadrunner Glass put in sliding glass doors for us. They put in seven doors; each one is about five feet wide. They are outstanding. They brought the doors down from Phoenix and they put them in for less than half the price of a contractor in Tucson. They came down with the right number of guys and I highly recommend them."
- Patty in Tucson
"Thank you. I needed a glass shower door and was referred to you by a friend. I got an estimate right away and scheduled an install date a week later. You were prompt, polite, and answered all of my questions."
- Elaine in Scottsdale
"Very nice delivery guys. Prompt and courteous. A wonderful glass installation job. Thanks for the help and have a great day!"
- Teresa in Phoenix
"Every once in a blue moon, we run across a company that deserves a gold star! Last week, I called you about a washer that fell off of our beautiful Roadrunner Glass shower door. A very nice lady answered the phone, not an answering system, and was eager to help. She then let me talk to the owner of the company and you were eager to help. You told me that you would get back with me and as you promised, we got a call from a gentleman who said that he would be here in 20 minutes. He did arrive in that time frame, was very pleasant, and had the washer replaced and fixed in minutes! Thank you….you are a rare jewel in the business world!"
- Barb and Marty in Scottsdale
"Thank you for replacing our two dual pane windows with deteriorated seals that were fogging up with moisture between the panes. You were very prompt, pleasant and professional as well as quite efficient. We would not hesitate to use your company again or to recommend you to others."
- Gail in Scottsdale
"The mirror looks great! Just what I wanted. Thanks!"
- Cindy in Phoenix
"Doug, compliments to you guys, the manufacturer and to Craig on my shower door! Thank you very much for your assistance in correcting the problems. Got the door hung back up last night and everything went great. My wife and I really, really appreciate it and will definitely be keeping you guys in mind for any future needs. Thanks again."
- Tony in Phoenix
"Hi Nikko & Andrew, we LOVE the new hardware and how easily the windows slide, close and lock. Definitely worth the wait to get those instead of the original ones. THANK YOU for all your help with this. Roadrunner Glass and Western Windows are A++ companies. Thank you for making this right! We will happily be a reference for you. Any company can look good when things go right – the true test is when things go wrong. We appreciate your integrity in making things right and getting the materials re-ordered and installed as soon as was possible. May God bless you!"
- Laura & Neville
Let's Discuss Your Project
To discuss your glass project needs with one of our expert glaziers, call 602-269-2543 or send us a message using the form below.

Visit Our Showroom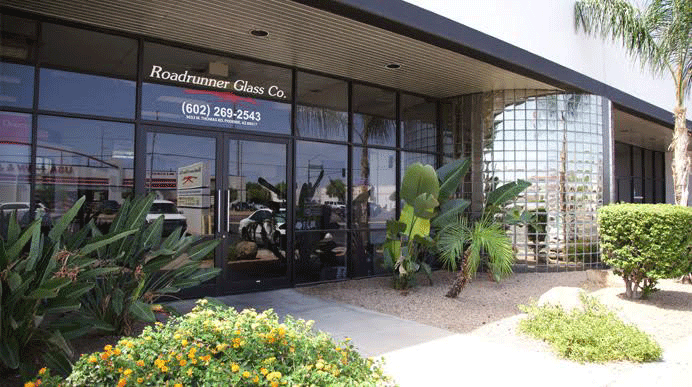 3033 W Thomas Rd
Phoenix, AZ 85017
Showroom Hours: Monday - Friday, 8:00 am - 4:30 pm
Get driving directions